Lightning is set to strike twice in Thor: Love And Thunder, one of the most anticipated comic-book movies of the year, and Total Film (opens in new tab) has exclusive interviews with director Taika Waititi and key cast members including Natalie Portman (who returns as the Mighty Thor) and Christian Bale (who plays big bad Gorr the God Butcher), plus returning stars Chris Hemsworth and Tessa Thompson (and not to mention Marvel Studios president Kevin Feige).
And that's not all! We also talk to Brad Pitt about his neon-tinged action flick Bullet Train, get the lowdown on Baz Luhrmann's journey to Elvis, and revisit the films that have scared us the most. Also in this jam-packed issue are the Russo brothers on their new Netflix spy thriller, The Gray Man, and Jenny Agutter reflecting on her illustrious career. Plus The Sandman, Jordan Peele, and a huge Lucasfilm preview.
Thor: Love and Thunder cover story
(opens in new tab)
After the rock'n'roll rowdiness of Ragnarok, Thor: Love and Thunder promises another reinvention of all things Asgardian, with Natalie Portman getting in on the action as the hammer-wielding Mighty Thor. But, the team behind the Marvel sequel tell Total Film (opens in new tab), amid the raucous humour, guesting Guardians and game-changing new villain, this is a film about love, actually.
Lucasfilm Preview
Want to get up to speed on all things Star Wars, Indy and Willow? Total Film (opens in new tab)'s whip-smart roundup from the Star Wars Celebration brings those famously distant galaxies right to your doorstep.
Brad Pitt on Bullet Train
Deadpool 2 director David Leitch directs Brad Pitt as an assassin on a hurtling train. Sounds ace to us, but can an old-school, star-powered action-comedy full of famous faces still make a killing at the box office? Total Film (opens in new tab) fights for answers with Leitch, Pitt and the super-cool cast.
Fear flicks
What's the movie that terrified you witless? The one you're *almost* too scared to return to? Join the Total Film (opens in new tab) team as we reignite some nightmare fuel and single out the scariest films we've ever seen.
Jordan Peele: Master of Suspense
The suspense is building as Jordan Peele's third movie, Nope, prepares to land in cinemas, dripping dread from every inch of the screen. Total Film (opens in new tab) looks at how an aspiring puppeteer and comic actor became Hitchcock's heir apparent.
Jenny Agutter career interview
National Treasure Jenny Agutter has worked on cosy British films, Hollywood sci-fis and Marvel behemoths during her 50-year run. As she revisits her star-making role in The Railway Children Return, she tells Total Film (opens in new tab) how her career and her sex symbol status were never by design.
The Gray Man
In the front section, Teasers, the Russo brothers spill on their relentless action-thriller The Gray Man, in which Ryan Gosling's black ops badass is pursued by Chris Evans' sadistic contractor. Plus, The Sandman, Henry Golding, DC League of Super-Pets, I Came By, Sharon Horgan and much more…
Out now!
(opens in new tab)
And if you're a print subscriber (opens in new tab), you'll already have the magazine (and art cards) waiting for you on your doormat, with this exclusive, subscribers-only cover:
(opens in new tab)
Subscription offer!
And if you're a fan of Total Film, why not subscribe (opens in new tab) so that you never miss an issue? You'll also get it before it's in shops, and you'll get exclusive subscriber-only covers like the lightsaber version you can see above. And with our current offer, you can also get you can also get a free super handy STM Powerkick portable charger. Head to MagazinesDirect (opens in new tab) to find out more (Ts & Cs apply).
Subscribe to Total Film magazine now and you'll never miss an issue (as well as saving money on the cover price). Get the digital version (opens in new tab) for your tablet or have an exclusive subs cover through your door every month – or save even more with a print/digital bundle (opens in new tab)! You can also get the digital magazine for your tablet via PocketMags (opens in new tab) (for Android) and Apple (for iOs).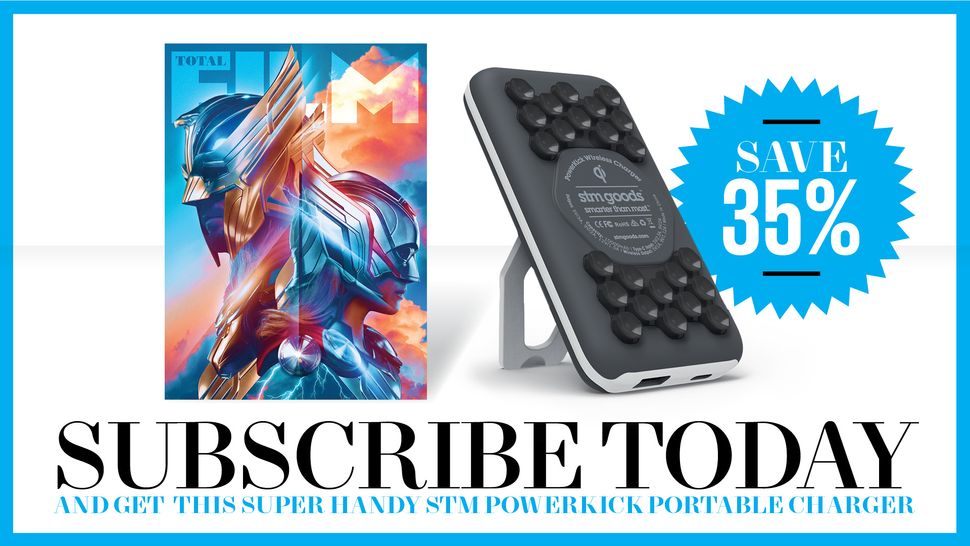 (opens in new tab)